Regular price
0,00 kr
Sale price
599,00 kr
Unit price
per
Sale
Sold out
Share
View full details
Description
IMPORTANT! We recommend to go AFTM classification on weights with these heads. 12g #5, 14g #6, 16g #7 and 18g #8. 10 meter heads with our taper design feels heavier than shorter heads. 

ADVANCE Shooting head series
10 meter head length on all weights and densities 

Unique taper design for easy loading, long casts and good presentation

Highly visible butt section for good line tracking in water

Micro exposed and strong durable loop connection
Ever lasting laser engraved w

eight and density

15kg strong low-stretch core

EFFECT-TAPER - A taper design that makes you fish better
ADVANCE shooting heads comes in 3 densities and 10 meters in length in 12, 14, 16, and 18 gram. The taper design is made for easily load and long stabile casts on distance - wind or no wind. This 10 meter special tapered design ensures you good presentation, stabile casts and very long distance on minimal effort. Combined with our perfect nylon shooting line, this setup is very efficient for covering lots of water and to be an effective sea trout fisher. 
EFFECT-TAPER - A taper design that makes you fish
Longer rear taper, shorter front taper and long belly - ready for long cast with only a few false casts.. and with stability all the way! 
Weights
12g 

(#5)

14g (#6)
16g (#7)
18g (#8)
Densities
Float (Fl. yellow/sand)

Float/S1.5 (

Fl. 

yellow/blue

)
Float/S3

 

(Fl. yellow/green

)
Float is the perfect choice for night fishing or fishing in low salinity. Our floating shooting heads has a neutral tip. These can be fished as a floating tip or a hover tip. It all depends on your leader and tippet. Fishing this with a fluorocarbon leader, you'll get a hover tip effect. With a nylon leader and tippet, this will work great as a floating line. 
Float/S1.5 (Intermediate) is the perfect choice for getting your fly down quick, but not too deep. Our slow intermediate line has a sinking rate of 1.5 inch per second (3.75 cm/s) for 80% of the head - 20% butt section is floating. This means you'll be able to track your line further out on distance and at the same time be fishing your fly in the perfect depth of water. This line is very versatile and be used in many situations. 
Float/S3 (Fast intermediate) is good choice for the ones who likes fast stripping or fishing rough weather with big waves. This shooting head dives through the waves and gives you the control and connection with your fly at all times when needed. Our intermediate line has a sinking rate of 3.0 inch per second (7.5 cm/s) for 80% of the head - 20% butt section is floating.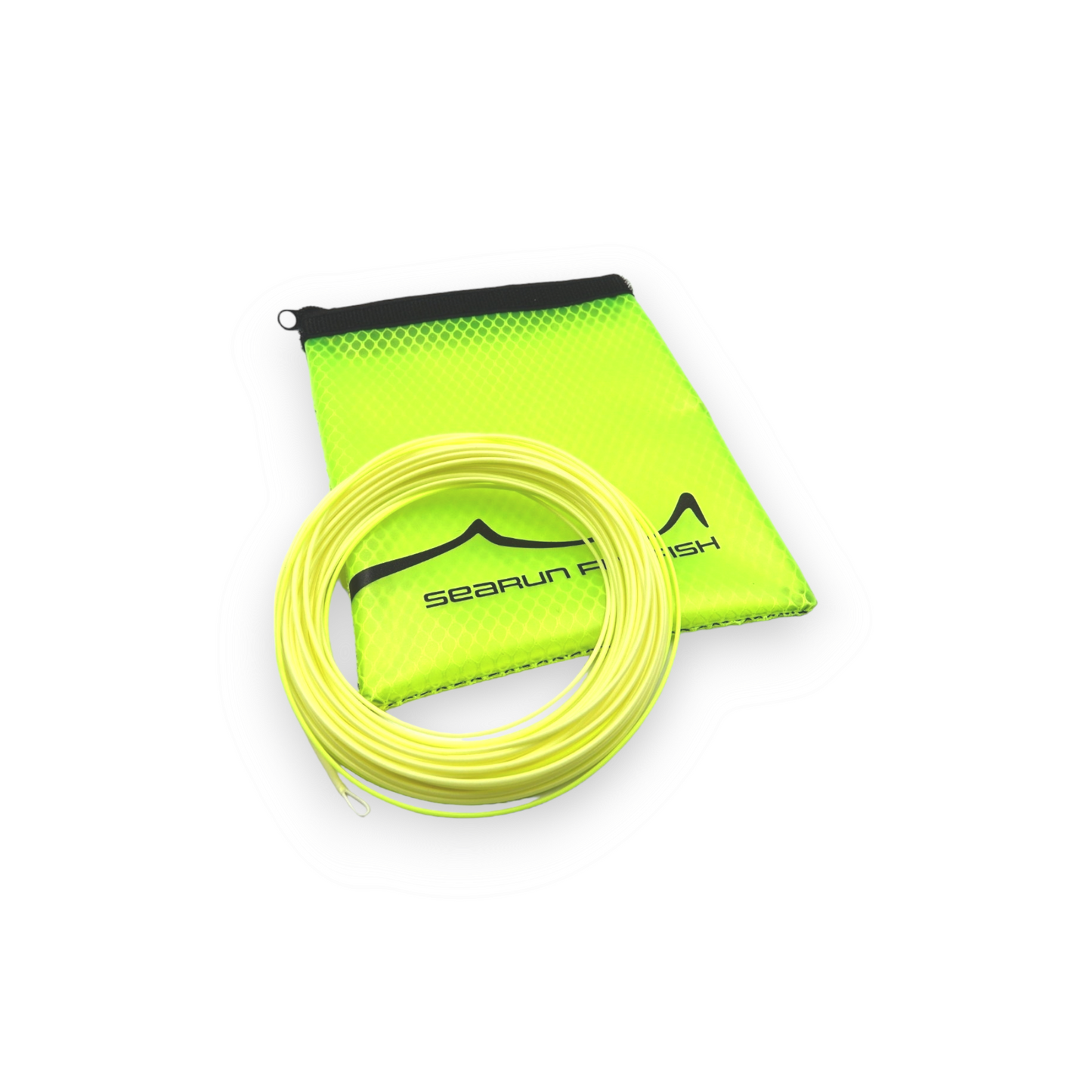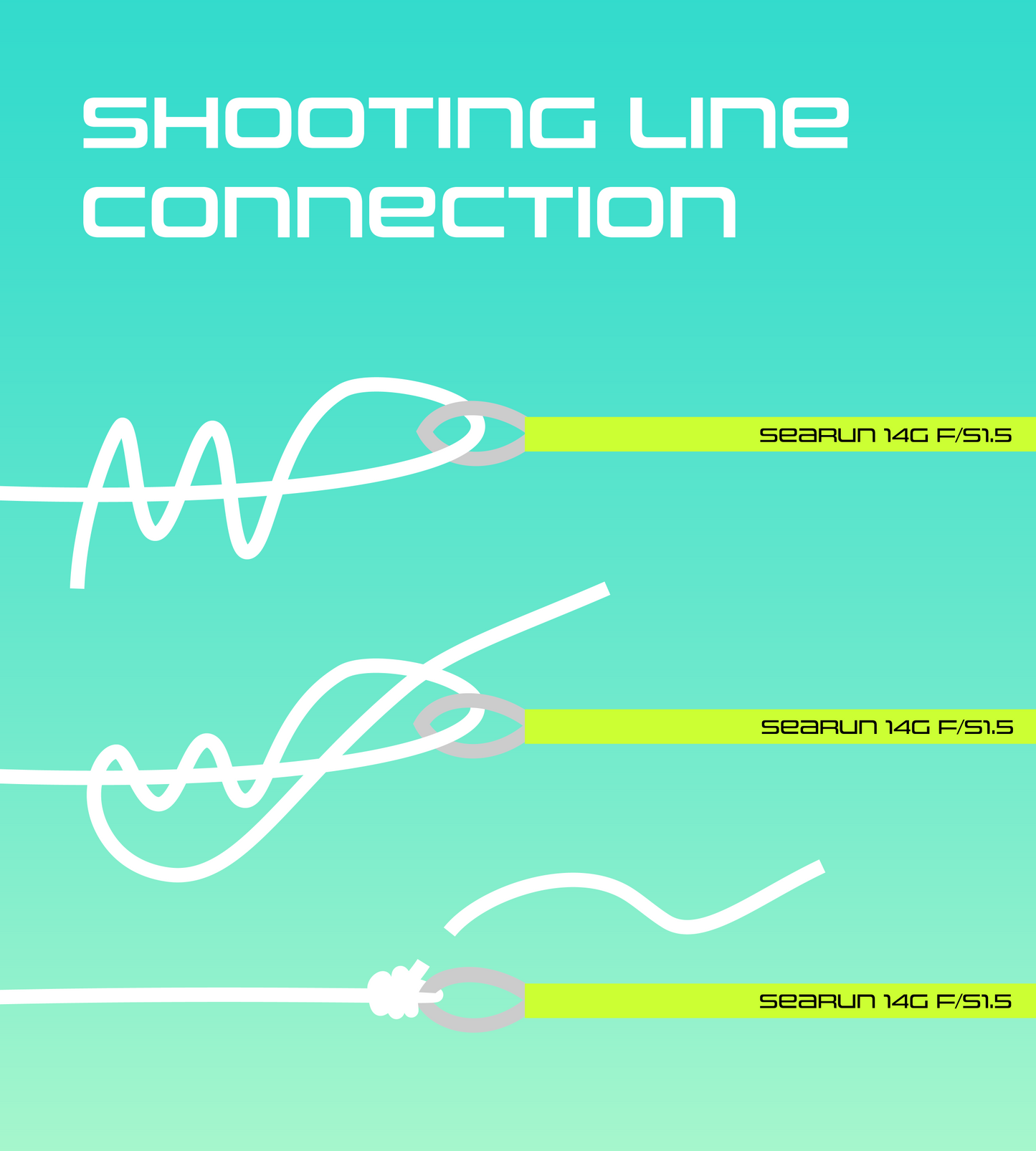 REVIEWS
"Enjoying the new advance shooting head from Searun Fly Fish, it sure does live up to my expectations, I must say it casts and present the fly like a Dream"
Instagram: flyfishingmaniac
-
"I have been testing the new Searun Advance shooting head series and I must say that I am quite impressed. I was sceptical at first since I have struggled to find a shooting head that had the perfect taper to cast a variety of fly sizes. Typically shooting heads for seatrout fishing are designed to cast big flies or a two fly setup resulting in a powerful turnover, which is not ideal for presenting smaller flies. The Advance series has a well designed back taper that smoothly transfers the energy into a short front taper. This means that these heads are very stable in the air and can present a Gammarus fly delicately but at the same time chuck a big shrimp fly into the wind. Other advantages with this taper are easy distance and great turnover when casting into a headwind. The Searun Flyfish team did an astonishing job with these heads!"
Morten Have Hansen, Fly Fishing Guide
--
Når jeg fisker havørreder på kysten, er der nogle afgørende ting jeg kigger på når det kommer til de liner jeg bruger. Først og fremmest så skal det være let kastet, også i vind der ikke lige passer. Fordi jeg forsøger at fiske der hvor jeg formoder fiskene er og ikke hvor jeg har de bedste kasteforhold. Lige netop det oplever jeg med linere her. Det er super nemt at vende forfanget over, altså få det til at strække sig, så jeg fisker så effektivt så muligt, og har kontakt til fluen med det samme.
Jeg fisker med alle 3 densiteter alt efter plads og forhold, og ingen af dem skuffer.
Det første jeg har lagt mærke til efter at have fisket med dem i nogle uger er at mængden af vindknuder er gået ned, også i dårlige kasteforhold.
Det er efter min mening et af de absolut bedste skydehoveder jeg har prøvet til dato. Så de største anbefalinger herfra.
Jonas Degn, Fly Fishing Guide